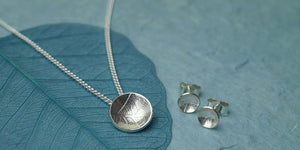 Nature inspired handmade jewellery & silverware
I'm Louise Mary, a contemporary artist silversmith and jeweller, author and jewellery tutor based in Swadlincote, South Derbyshire. I love creating stylish, handmade jewellery and silverware designs, inspired by nature. I often work to commission, creating one-off designs for clients, such as bespoke engagement rings, wedding rings and eternity rings, so please do contact me to discuss your ideas. I also offer jewellery making workshops from my studio, including my award winning 'make your own wedding ring' course.
Wedding ring workshops
Making your own wedding rings is a wonderful symbol of love and offers the chance to spend a memorable day as a couple creating the wedding bands you'll wear forever.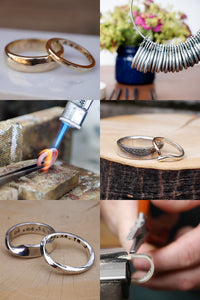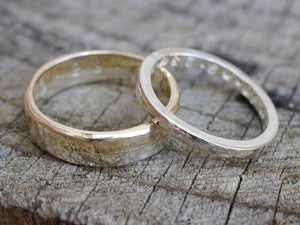 In August, lovely couple Katy and Gareth joined me in the studio to make their wedding rings for their wedding at the end of September. They came to the studio...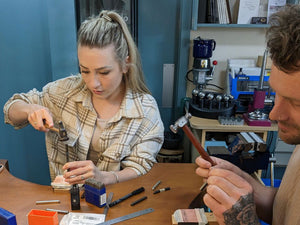 The studio has been a hive of activity recently with couples creating their wedding rings and making memories at my wedding ring workshops! It feels such a privilege to help...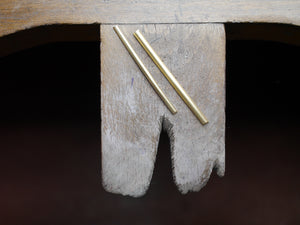 The studio has been busy with wedding ring making workshops recently, as couples prepare for their upcoming weddings this summer and autumn, taking a day out from the wedding planning...
Creative jewellery workshops
Would you like to learn how to make silver jewellery? I run creative jewellery making workshops in my rural studio in Swadlincote, South Derbyshire.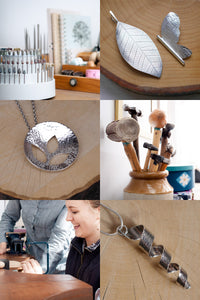 Make your own silver jewellery
I will introduce you to traditional silversmithing techniques, from which you can experiment and develop a design for your own unique piece of silver jewellery. By the end of the day, you will have completed a piece of silver jewellery to take away with you. Find out all you need to know about booking a creative jewellery workshop, or get inspired by reading the wonderful jewellery making stories on the blog, and admire the unique pieces other attendees have made on their workshops.
Creative jewellery workshops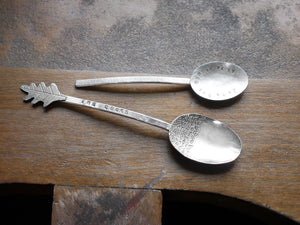 I recently ran my first silver spoon making workshop for two friends Hannah and Charlie who travelled from Southwell, Nottinghamshire, for the day. They had great fun making two unique...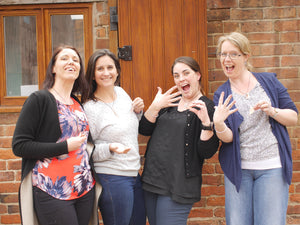 My creative jewellery workshops are a fantastic opportunity to get together with your friends to celebrate a special birthday, just as these four friends (who were all at school together...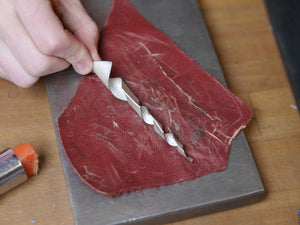 Scotsman Andy (an engineer) had always wanted to make his own kilt pin. His lovely girlfriend Amelia emailed me and booked a workshop for Andy as a surprise birthday present....
Jewellery and silverware commissions
I often work to commission for clients who like the overall style of my work and would like a bespoke piece created.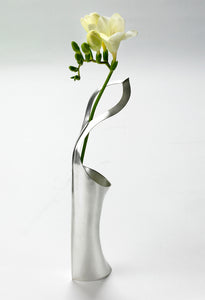 Bespoke jewellery and silverware
I have applied my style to create designs which have included a silver marmalade spoon, fold formed napkin rings featuring a family crest, engagement rings and wedding rings incorporating gemstones from family heirlooms, and remodelled gold jewellery. I love to create these special one-off pieces, and enjoy hearing the stories behind them. Find out more about commissions here.
Commissions
Helpful information
---
If you are planning on coming to one of my workshops to make a ring for someone who won't be with you on the day and you don't know their...
What is hallmarking? Hallmarking is a stamp which is applied to metals to denote their precious value. In the UK, the hallmarking law states that a piece of silver which...
Silver jewellery in particular will blacken over time, as it reacts with sulphur in the air, and even gold will benefit from a little care from time to time to...